1. Visit your hairstylist regularly - Getting a regular trim can do wonders for your hair. Even if it is a small trim, it will help to reduce breakage and make your hair look and feel healthier.
2. Invest in a quality shampoo and conditioner - Local hairstylist Gracie Atkins recommends using
Matrix Biolage
shampoo and conditioner. Matrix has a wide range of products and a great website to help you to discover the correct product for your hair type.
3. If you color your hair, use a color enhancing shampoo - A color enhancing shampoo is great for extending your the time between your visits to the hair salon. One great product is the Bumble and Bumble Color Minded line.
4. Use a dry shampoo - One tip I received from my good friend Lindsey from
Pearls, Please
is to wash my hair every few days and use a dry shampoo in between. We had been searching for a great dry shampoo that doesn't leave residue behind and washes out easily and we found
Batiste
. For me Batiste works well and I have coarse, think hair and on the other hand Lindsey has fine hair. We have both had great results using it! I've found Batiste at CVS, Marshalls, and Amazon.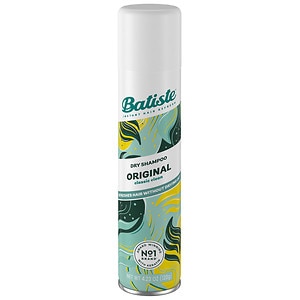 5. Take a day off - This is something I have added to my New Years Resolutions. Usually, I style my hair with heat every day of the week because my hair always needs styling to look normal. My go to style for a heatless day is a ballerina bun. You can find a quick and easy bun
here
. Another style I love is a fishtail braid.
6. Take vitamins - Many people take prenatal vitamins to promote healthy hair and nail growth. One that I found works great and was recommended to me while I was on a weight lifting program is
MRM Smart Blend
. There are many amazing benefits besides promoting hair and nail growth such as supporting optimal immune health and and cardiovascular health.
7. Use a heat protector - One I recently started using is
Dry Bar Hot Toddy Heat Protector Frizz Fighter
. For me finding a heat protector and frizz fighter in one had major bonus points. I don't normally use any product in my hair besides hair spray but I have found that this is the best one I have tried yet. It tames my flyaways and smells truly amazing
8. Invest in a deep conditioner - Lindsey from
Pearls, Please
lives by using
It's A 10 Miracle Deep Conditioner
. With years of color treatments and hair care adventures under her belt, she swears by this hair mask and says it has done wonders for her golden locks.
9. Use hair ties that won't damage - I love ribbon hair ties. They come in so many fun colors and do not pull on your hair when you take them out.
10. Invest in heat stylers - One thing I have found that really saves my hair is by using a quality flat iron. The one that I use is
ghd Classic 1 Inch Styler
. I have found this one to be the best one I have ever used. In fact I had one that lasted me about 6 years and once it broke I rushed to go find another!
I hope these tips help! Let me know how you plan to have better hair in 2015!